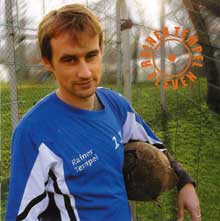 Rodenstein Records ROD 22
Rainer Tempel
Eleven
Gregor Hübner, Frank Lauber, Matthias Erlewein, Axel Schlosser, Claus Stötter, Nils Wogram, Ed Partyka, Frank Möbus, Rainer Tempel, Henning Sieverts, Wolfgang Haffner recorded 2005 www.rainertempel.de

Download

order now (€ 15,00/CD)
Pianist, arranger and composer Rainer Tempel formed a dreamteam of eleven German jazz musicians for this great and unique recording.
more about the music
more about the musicians
more about the music
Arranger Rainer Tempel created a new ensemble incorporating eleven of the best and most creative German musicians like Nils Wogram, Frank Möbus or Wolfgang Haffner to perform his new compositions - a new dreamteam! In his Production ELEVEN Rainer Tempel brings together some of the most popular musicians of the German Scene and unifies them to a real strong ensemble. Continously looking for developing the art of composing Tempel succesfully maintains a unique style. There are not so many recordings of "Small Big Bands" in Jazz history and only a few of them are really well-known. But that might be the reason why the character of this instrumentation sound so fresh to the listener. The compositions on ELEVEN range from strong and heavy grooves over melodic Modern Jazz and polyphic Bigband Sound to classical Orchestra Sounds. Of course some extraordinary solos are to be heard on this recording as well as five Duets called Einzelgespräche. This is Tempels eights album under his name and it is a highlight in his work in many ways. Therefore one could say that Tempel now has defintely reached the Bundesliga of the German Jazz Scene.
more about the musicians
Gregor Hübner, Violine (Tango Five, Richie Beirach) Frank Lauber, Altsax, Flöte, Bassklarinette (Joy Denalane, Joo Kraus) Matthias Erlewein, Tenorsax, Klarinette, Flöte (WDR Bigband, NDR Bigband) Axel Schlosser, Trompete (hr Bigband) Claus Stötter, Trompete (NDR Bigband, Stötter's Nevertheless) Nils Wogram, Posaune (Root 70, Underkarl, Lucas Niggli) Ed Partyka, Bassposaune, Tuba (Brookmeyers New Art Orchestra, Vienna Art Orchestra) Frank Möbus, Gitarre (Der Rote Bereich) Rainer Tempel, Rhodes, Synth Henning Sieverts, Kontrabass, Cello (Nils Wogram, Peter Fulda) Wolfgang Haffner, Schlagzeug (Dauner, Mangelsdorf, Till Brönner, Nils Landgren) Vita Rainer Tempel Born 1971 in Tübingen, Germany 1994-98 Studies in Jazzpiano Meistersinger Konservatorium Nuernberg Tempel taught himself in composition and founded the TEMPEL BIGBAND i n 1996. With this Band he started his career as a bandleader, conductor and compser/arranger. The TEMPEL BIGBANDI has released three CDs un til today and has produced several radio shows. Besides working and recording with the Bigband (
JAZZ'n'ARTS Records 1102
), Tempel started checking out other groups of instrumemts like strings in SUITE ELLINGTON (
JAZZ'n'ARTS RECORDS 0401
) or woodwind ensemble in WOODWINDS (
RODENSTEIN RECORDS ROD 21
). Tempel has regulary been invited as a composer and guest conductor of the NDR Bigband since 1999 and has composed for or conducted bands like hr Bigband (Frankfurt), RIAS Bigband (Berlin), Sunday Night Orchestra (Nuernberg) and Zurich Jazz Orchestra. His Small Ensembles are the quintet GMBH and the TEMPEL TRIO in which he sets the focus on piano playing. In 2001 Tempel started teaching Jazz Composition in Lucerne, Switzerland. Selected Recordings: • Tempel Bigband (mimosa music 1997) • Tempel Bigband: melodies of '98 (jazz4ever records 1999) • Rainer Tempels GmbH: Blick in die Welt (edition musikat 2000) • Rainer Tempel: Suite Ellington (
Jazz'n'Arts Records 0401, 2001
) • Tempel Bigband: Album 03 (
Jazz'n'Arts Records 1102, 2002
) • Tempel Trio: Finger Food (way out records 2004) • Rainer Tempel: woodwinds (
RODENSTEIN RECORDS 21, 2005
) • Rainer Tempel Eleven (
RODENSTEIN RECORDS 22, 2005
)