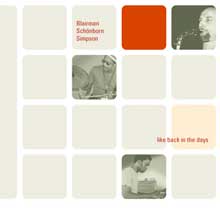 Rodenstein Records ROD 24
Blairman, Schönborn, Simpson
Like Back In The Days
Allen Blairman (drums)
Olaf Schönborn (saxophone)
James Simpson (organ)

recorded 2004

contact:contact@olafschoenborn.com
Legendary drummer Allen Blairman returns to his roots with this organ trio: "nine cuts with an infectious, honest, unpretentious energy and passion" (onefinalnote.com) "As for some soulfulness, look no further" (cadence magazine)
more about the music
more about the musicians
reviews
more about the music
Finest organ trio jazz with a great groove, feat. the legendary drummer Allen Blairman, James Simpson (toured also with Roy Hargrove) and saxophonist Olaf Schönborn. 1955, the year that Jimmy Smith was forming his first unique trio, was also the year that the drummer Allen Blairman had his first jazz gig ­ 50 years ago! His first group included John Heard (also played with Count Basie, Ahmad Jamal, George Duke and B.B. King) and guitar player Jerry Byrd (played with Jack McDuff and many others). Being part of the great Pittsburgh jazz scene at the age of only 14, Allen often performed with jazz greats like George Benson, Stanley Turrentine, Horace Parlan, Joe Alexander, Groove Holmes, Cat Anderson - and Jimmy Smith! I met Allen eight years ago in Heidelberg. He called me on short notice, because his saxophone player couldn¹t make it. We had never met before, and we knew nothing about each other ­ but on the gig it felt like we had known each other for years. I was totally excited after the gig, since I felt so much energy, musicality, creativity and freedom in his playing - although I still had no clue who he actually was. Only later I learned about all his experience and his tours with Dexter Gordon, Albert Ayler, Mal Waldron, Ron Carter, Karl Berger and his jams with John Coltrane or Elvin Jones, just to name a few. Since that day we have been playing together in all kinds of different contexts and I feel fortunate that we have become close friends. Three years ago, on a jam session in Mannheim, I ran into James. James has been touring a lot, lately with Roy Hargrove¹s RH Factor, and The Temptations. He had just come from the States, and right away we hit it off. I liked his playing and his groove on the drums. We got to talking and he told me that he was actually an organ player. In the Fifties almost every club had an organ sitting there, which unfortunately is not the case anymore. I finally did hear him play the organ more than a year later, and I felt I just had to form a group with him. And I knew that Allen would be the right drummer for it. For Allen it was like comin¹ home. Organ jazz was what he had started with. The opportunity came when I was asked to form a band for a jazz festival in Mannheim. We had a first rehearsal ­ and we just played on and on and couldn¹t stop. Right there I determined to record a CD ­ but we wanted it to preserve this kind of energy and spontaneity. After two more gigs we went to my friend Kurt's studio to record, and it was just like in the practice room: We began to play and just went on from one song to the next, through the whole set list, all on one day, "like back in the days³. We started around noon with "Ode to Billy Joe," and ended `round about midnight, totally exhausted, with "Skylark". Olaf Schönborn
reviews
onefinalnote.com
These days, drummer Allen Blairman is perhaps best known for his part in Albert Ayler's last working band, documented on recent live releases such as Live on the Riviera. But it's interesting to note that, before he submerged himself in the avant-garde of the late 1960s, he'd been gigging on the Pittsburgh jazz scene since the mid-50s, playing with a wide range of movers including George Benson, Stanley Turrentine, Horace Parlan, Joe Alexander, Groove Holmes, Cat Anderson, and Jimmy Smith.
It's this last legendary name that has the most resonance for this collection, as we find Blairman returning to his roots in an organ trio, featuring fellow American James Simpson on the Hammond B3 and German saxophonist Olaf Schönborn, blasting through nine cuts—recorded in one day—with an infectious, honest, unpretentious energy and passion.
Given the band's apparent mission to recreate the straight-ahead swinging organ trio, it would perhaps be a little churlish to criticize the selection of tunes covered here. Even so, a lot of obvious boxes are ticked: from the 60s-style pop-crossover of Bobby Gentry's "Ode to Billy Joe" to standards like Sonny Rollins' "Sonnymoon for Two" and Gershwin's "Summertime". There's a slow blues, a calypso, a ballad, even an upbeat reworking of the old Civil War tune "When Johnny Comes Marching Home". Highlight of the album, though, is Reuben Wilson's hard-driving, acid-jazz classic "Orange Peel", delivered with such verve that it could probably fill any dance floor even today.
Once you've got into the spirit of things, this album bristles with some fine playing. Blairman lays down some crunching, solid grooves that buzz with the energy of a man half his age, while Simpson's organ is center stage throughout: bluesy, soulful, and authentic. If Schönborn's sax seems a little forgettable on the whole, it certainly doesn't detract from the overall impression of a hardworking, blue-collar band playing for beer money. And I mean that as a compliment.
cadence magazine, 2004
Despite a waning trend in recent years, organ jazz groups still continue unabated, and that's a good thing. "Back in the Days" is a classic encounter from German saxophonist Olaf Schönborn, who is joined here by two Americans, organist James Simpson and drummer Allen Blairman. This easygoing session represents yet another variation on an old them, but is enjoyable nonetheless. Program-wise, the group looks mostly to standards, commencing with some mid-tempo funk on the album's opener, "Ode To Billy Joe". As for some soulfulness, look no further than "Glory Of Love", or for some low down blues, "Blues In The Night" will do. While there is an overall joyous vibe here, it's hard to beat the happy-go-lucky feel of Blue Mitchell's "Fungii Mama," certainly a tune that is not played enough., while a buoyant "Sonnymoon For Two" presents some toe-tapping swing, as does "Summertime," surely an overplayed standard that gets a Latinized twist.
Schönborn and Simpsons go it alone on the album-closing "Skylark", a lovely departure. Like most organ-sessions this one is "for the people" and while it might not be overly original both in conception or demands on one's skill set, it is a nice way to spend the time.