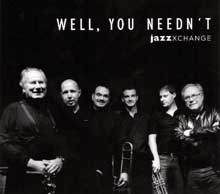 Rodenstein Records ROD 28
JazzXChange
Well, You Needn´t
August Wilhelm Scheer (bari sax) Werner Seifert (organ, fender rhodes, wurlitzer, piano) Thomas Siffling (tp, flgh) Chris Perschke (trb) Thomas Heidepriem (bs) Michael Ehret (dr) recorded 2005 Contact:www.jazzxchange.de
Two of Germanies most important business leaders, Werner Seifert and A.W.Scheer, are also musicians themselves - and they teamed up with some of Germanies finest jazz musician for this great Hardbop session.
more about the music
more about the musicians
more about the music
This unique band owes its existence to the life-long jazz passion of two of Germany's top managers: Werner Seifert, chairman of the German stock exchange until 2005 and Professor AW Scheer, owner of one of the most succesful German software companies have fulfilled their dream to form an ambitous "working band" – admidst all their stressful work as topexcecutives! (this seems to be a secret of success since our research has proven that many top managers are passionate jazz musicians as well!). As musical director of their sextet they chose rising-trumpet-star Thomas Siffling. Seifert on Rhodes and Hammond organ, AW Scheer on baritone sax, and their fellow musicians are groovin' through great soul jazz classics full of verve and dynamics. They just completed their first succesful tour through Germany with gigs in Hamburg, Berlin, Frankfurt and other great festivals and they hunger for more...
more about the musicians
Werner Seifert, one of Europe's most succesful businessman, chairman of the German Stock Exchange until 2005 Professor AW Scheer, owner of one of the most succesful German software companies and board member of SAP, baritone sax, can also be heard on the new beautiful recording of the "Wunsch/Strauch Sextett" feat. Kenny Wheeler Thomas Siffling One of Germany's top trumpet player's, winner of "Jazz-Award" of the State of "Baden-Württemberg" 2005, leader of the succesful Thomas Siffling Trio , executive manager of EMANON Music Group. Chris Perschke Trombonist and arranger, leader of his own bigband "BigBrazzPack" who has published 2 CDs on RODENSTEIN RECORDS already: "Santa Claus is jammin' into town" "Crime Time" Thomas Heidepriem (bs) member of HR radio bigband and one of Germany's top bass player Michael Ehret Great drummer from Frankfurt, member of the Barrelhouse Jazzband