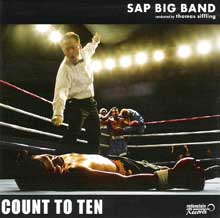 Led by trumpet player Thomas Siffling, the SAP BIG BAND has produced their third CD for Rodenstein Records: a tribute to the great Count Basie. In their tenth year the band is swinging better than ever !
more about the music
more about the musicians
more about the music
The SAP BIG BAND meanwhile is combining various music styles. One of the styles, however, is fitting perfectly to the Band: the neat Swing of Count Basie's age. The Band has demonstrated its ability several times: During the concerts for example in the SAP, when the musicians appeared dressed in black suits, white shirts and bow-ties, or on Mannheim's may-fair (2005), the Band created real Swing-Feeling. That's the reason why the current program is exclusively about Swing, also the new CD is about Swing, and it refers in its title subtly to the Bands 10th anniversary. Look forward to re-experiencing several Swing-classics in a current recording!