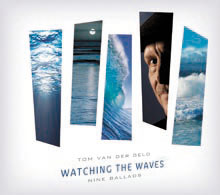 Rodenstein Records ROD 35
Tom van der Geld
Watching the Waves / Nine Ballads
Tom van der Geld (vibraphone)

www.tomvandergeld.de
A unique recording of nine ballads played only by Tom van der Geld on the vibraphone, striking by its beauty, its finesse and its magic beneath the surface. A timeless CD - Music that makes the world stand still.
more about the music
more about the musicians
more about the music
Is there anything sillier than recording a solo album as a vibraphonist? In fact yes: recording a whole vibraphone solo album with exclusively standard ballads... And that's just what Tom van der Geld did – and it became an exceptional CD, full of beauty, elegance and most of all with depth. A recording seemingly simple at first glance but then more and more captivating. Tom van der Geld's approach was to transfer Bill Evans's sound onto the vibraphone. A wonderful album to relax, in a faboulous recording quality, recorded by GRAMMY award winner Klaus Genuit. Music that makes the world stand still; a timeless CD far beyond short-lived jazz-fashions.
more about the musicians
Tom van der Geld has performed on all major jazz festivals and is one of the most acclaimed vibraphone players, highly respected by his fellow musicians (e.g. Gary Burton, David Friedman). He recorded and performed a.o. with Kenny Wheeler, John Taylor, Mel Lewis, Bob Brookmeyer, Albert Mangelsdorf. Van der Geld produced four succesful recordings for ECM with his band "Children at Play", but has not recorded for more than ten years because of health problems. In the meantime he became not only a well-known composer for stage productions, author of Germanies most succesful ear-training book, but he also became professor at the University of Mannheim and Cologne for jazz harmony, ear training and vibraphone and is one of the most sought-after jazz educators in Germany.