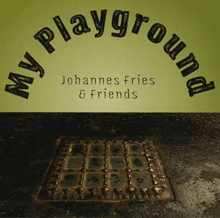 Rodenstein Records ROD 69
Johannes Fries
My Playground
www.drums-percussion.com
Johannes Fries (dr, perc, kb, voc), Olaf Schönborn (sax, fl, bclar), Melanie Hanke (voc), Alberto Menendez (sax), Johannes Golz (trb), Billy Konaté (perc), Michael Quast (kb), Liv Wagner (voc), Joo Kraus (tp), Fabian Schreiber (git), Marie Fofana (voc), David Guttirrez (git), Michael Geldreich (kb), Michel Tils (git), Sean Gutpil (voc), Kristina Kristoffersen (voc), Judith Janzen (Conferencieuse)

Johannes Fries took more than 5 year to record this wonderful concept album, displaying his wide scope and versatility as a drummer and composer. Many great musicians (e.g. Markus Zimmermann kb, Joo Kraus tp, Olaf Schönborn sax, David Guttierez git, Alberto Menendez sax) helped him to shape this inspiring voyage from African ethno sounds to groovy funk and fiery Fusion Jazz - always taking time for the songs to develop with a lot space for excellent improvisation and an excellent sound.
more about the music
more about the musicians
more about the musicians
Johannes Fries began his musical career in Mannheim in 1980 where he was taught by Walter Hilsendegen. After 5 years with Peter Giger he also took classes with Trilok Gurtu and Alphonso Mouzon.
He is a very well known teacher himself and he played a.o. with Pete Lancaster, Afro-Brasil, Namaz, Essig-Creation, Maisha Grant, Phill Edwards, Kosho (Michael Koschorreck), Sunny Tellis, Katrin Haug, Tom Krüger, Werner Goos, Albert Mangelsdorf, Lance Burton, Scott Allan, Charles Shaw, Wolf Mayer, Dieter Mack, Bill Summers, Mayer-Mendez, Alberto Menendez, Olaf Schönborn, Knut Rössler…