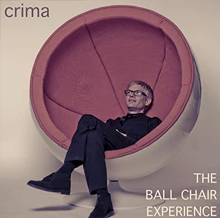 Rodenstein Records ROD 79

Crima
Both sides of the Ball Chair

CD 1: The Ball Chair Experience:
Christian Maurer: keyboards, analog synthesizers, percussion, drums
CD 2: The Backside of the Ball Chair:
Christian Maurer: Piano
Olaf Schönborn: Soprano sax, alto sax, tenor sax, baritone sax
Johannes Alisch: Cello
Liv Solveig: Violin
This very unique productions features each song in 2 different line-ups: On CD 1 Christian Maurer plays all the instruments himself and he creates great grooving electronic dance music with jazz elements. On CD 2 he takes the same titles but he transforms them in a totally acoustic set-up even without drums: Only acoustic piano, sax, cello and violin - an album filled with jazz improvisation yet keeping the pulsating rhythmic force of the electronic versions.
more about the music
more about the musicians
more about the music
The Ball Chair Experience was produced between April 2019 and May 2021 and contains mainly a selection of instrumental tunes which I composed over the years. Most of the parts are handmade music, played on legendary analog electronic instruments like the Minimoog, Korg MS10, MS20 and miniKORG-700, Oberheim Matrix, electric pianos of Wurlitzer and Rhodes, Hohner Clavinet and electric guitar. But there are also acoustic instruments: drums, usual and strange percussions (like wooden tables), grand piano and carillon. They are partially processed with electronic effects to make them fit into the arrangements which are based on club music from different styles and decades, like Disco, Funk, Latin, Electro, House and Techno. But beside the stirring motion of Dancefloor Music and nostalgic synthesizer sounds, there's another essential element, the melodic and improvisational approach of Jazz Music.
So the Ball Chair became a kind of time capsule, a voyage into different times and styles. But this was quite a solitary journey for me, performing every step in the production myself, and there were still many more musical influences resonating in my ears…
In July 2021 I fortunately got a grant from the Ministry of Science, Research and Arts for a new music project. This gave me the opportunity to collaborate with other musicians. I took the chance for an esthetic challenge by rethinking, re-arranging and re-composing The Ball Chair Experience.
The seed for the concept was implied in the third track From One to Another, a short interlude which was performed simply on an acoustic grand piano. So the idea was born, to recreate all other tracks reduced on a few acoustic instruments, keeping the melodies and the rhythmical drive of the originals. But without the use of any percussion instrument (to prevent us from a cheesy "unplugged" experience where electronic instruments are simply replaced by their acoustic fellows). Henceforth I had to be focused on the rhythmical quality of "non-percussion" instruments, that I remembered from my experience in Tango Argentino, Minimal Music, Jazz without drummer, but also in the European classical tradition (of course Bach and Beethoven are groovy, particularly in their "ostinato moments").
And so The Backside of the Ball Chair became a kind of minimalistic, tangofied and/or jazzy chamber music for different combinations of piano, saxophone, violoncello and violin. The only new track, a short Prelude in 15/16, could be seen as the symbolic travel of a solitary pianist, escaping from the isolation of his Ball Chair, looking for the accompaniment of other instrumentalists which appear step by step, creating an increasing soundscape…
more about the musicians
Christian Maurer is crossing the borders of musical styles. For many years he has mainly worked as a highly respected sideman (as keyboarder and drummer), before starting his own project: crima.
After graduating from the classical conservatory and an additional degree in jazz studies his musical work ranged from jazz to pop music, from Chanson to Latin American music, from electronic music to contemporary classical music. He played with many international artists like drummer Keith Copeland, Allen Blairman, Pete York, saxophonists Olaf Schönborn and Tony Lakatos, Nubya; singer Xavier Naidoo, Hans Hartz, Rolf Stahlhofen, Philippe Huguet, Georg "Mary" Preuße, Viviane de Farias; guitarist Dany "Labana" Martinez, keyboarder Jason Wright….
His musical influences started with French electronic pioneer Jean-Michel Jarre, the Beatles, ABBA but also classical musicians like Bach, Beethoven, Chopin. As an adolescent he discovered jazz artists like Bud Powell, Charlie Parker and Miles Davis. The list of musical influences has grown a lot by now as well as the quest for integrating these influences in his personal musical language.