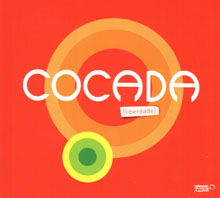 Rodenstein Records ROD 40
COCADA
liberdade
Tanja Mathias-Heintz (piano, keyb.)
Martin Simon (bass)
Cris Gavazzoni (drums, perc)
Fausto Israel (vocal)
Olaf Schönborn (sax, flute)

cocadamusic.blogspot.com
Brazilian grooves, Portuguese lyrics, catchy melodies and great jazz solos are the ingredients of the tasty COCADA offered to you by this Brazilian/German band. All songs are originals by piano player Tanja Mathias-Heintz with lyrics by singer Fausto Israel from Sao Paolo.


more about the music
more about the musicians
more about the music
This record gives you a taste of Brazilian vitality and sun enjoy! The Lyrics by Fausto Israel are dealing with the poetic moments in life. Stories about music that leads you ibto the past, impressions of daces in Brazilian backyards and even an ironic love song for a dishwasher.
Percussionist Chris Gavazzoni (another Brazilian) and Martin Simon (bass) lay the foundation for the wonderful songs and the melodic solos by saxophone player Olaf Schoenborn.
more about the musicians
Pianist Tanja Mathias-Heintz studied at the Jazzhochschule Colologne with John Taylor. Besides succesful Latin projects she also is a sought after arranger / composer for several theatre production and educator.
Singer Fausto Israel wrote also the lyrics to all the tunes. He moved from Sao Paolo to Frankfurt several years ago and besides singing in many Brazilian music groups he is also working as a dance teacher.
Chris Gavazzoni is one of the most requested percussion players - she performed a.o. with the Radio Big Bands of Frankfurt (HR Big Band) and Cologne (WDR)
Martin Simon just released a CD with his band DADA on Rogenstein records (ROD 38) and is working with many other bands, e.g. , singer Sarah Kaiser (VERLINKEN MIT sarahkaiser.de) and Olaf Schönborn's Q4
Olaf Schönborn's Q4
Saxophone player Olaf Schönborn, who is also owner of Rodenstein Records, has performed on many famous jazz festivals (Montreux Jazz Festival, North Sea Jazz Festival, Berliner Jazzfest...) and even released a CD on th famous Blue Note Records Label with the band
JazzXchange