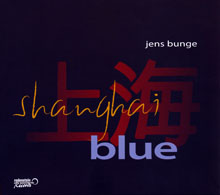 Rodenstein Records ROD 34
Jens Bunge
Shanghai Blue
Jens Bunge (harmonica)
Huang Jianyi (piano)
Charles Foldesh (drums)
E.J.Parker (bass)
Coco Zhao (vocals)
& many special guests

www.jazzpages.com/JensBunge
Can you imagine Chinese folk songs in a jazz context? No? Then listen to Jens Bunge: He makes them sound like fresh new jazzstandards – and his band swings!
more about the music
more about the musicians
reviews
more about the music
Jens Bunge, one of Germany's best harmonica players, has worked with a.o. Art Farmer, Ack van Rooyen, Peter Herbolzheimer and Barbara Dennerlein, and has performed all over the world. Toots Thielmann wrote: "we must welcome Jens Bunge to the growing ranks of chromatic harmonica players in Jazz. Jens has a round tone and technique, supported by musicianship".
On his 8th CD "Shanghai Blue" he dared something very unique: He rearranged classic Chinese folk songs within the jazz context – and the results are just astonishing! This is also due to the high level of musicianship of his Chinese band members – the band just swings great! And he also invited some of the best Chinese Jazz Singers to perform their own vocal versions of these folk songs, a.o. China's rising jazz star Coco Zhao.
A unique production, with great swinging jazz, wonderful solos and a totally new twist to traditional Chinese music!
more about the musicians
Jens Bunge – harmonica
He is not only one of Europe's finest harmonica players but being an ordained Protestant minister also working a full-time job teaching at highschool – which might explain why he is so far not half as known as he should be… He performed a.o. with Art Farmer, Ack van Rooyen, Thilo Berg Big Band, Barbara Dennerlein and Jackie Allen.
Being an untiring globetrotter, Jens Bunge has been playing his harmonica on all five continents: New York, Chicago, San Francisco, Montreal, Honolulu, Rio de Janeiro, Sydney, Singapore, Hong Kong, Bangkok and Cape Town are just a few of the locations where he appeared as a featured guest. His great love is Asia and particularily Shanghai where he has also recorded his latest CD.
Huang Jianyi – piano
Taught classic piano at the Shanghai Conservatory of Music, then studied jazz piano at the Berklee School of Music in Boston. Performed with
Joe Lovano
,
Nils Landgren
.
E.J. Parker – bass
Studied jazz at The Dana School of Music, Ohio; performed with Kenny Burrell, Cyrus Chestnut, Joanne Brackeen and the Tommy Dorsey Orchestra. One of the most requested bass players in Shanghai.
Charles Foldesh - drums
Native of Prescott, Arizona, studied at Oberlin Conservatory of Music in Ohio under the instruction of jazz legend Billy Hart, played among others with
Marcus Belgrave
,
George Benson
,
Slide Hampton
and
Claudio Roditi
.
J.Q. Whitcomb - trumpet
Born and raised in Santa Fé, New Mexico, completed degrees in East Asian studies and jazz trumpet at Oberlin Conservatory of Music, Ohio, has been living and performing in Shanghai since 2003.
Zhang Le – vocals
Winner of the Casio Singing Competition 1998, recordings for TV-dramas and film projects. Studied at the New England Conservatory of Music, Boston, currently living in New York.
Alec Haavik – tenor saxophone
Studied at the Manhattan School of Music, New York, before moving to Asia. After some stints in Taiwan, Seoul and Tokyo, he made Shanghai his home, where he performs regularly at JZ Club.
Coco Zhao – vocals
Studied composition at the Shanghai Conservatory of Music. Appeared with
Betty Carter
at the International Jazz Festival in Shanghai, performed at jazz festivals in Canada, Europe and Asia.
Peng Fei – violin
Studied at the Shanghai Music Conservatory and the Royal Brussels Music Conservatory, The Hague. Composed for TV dramas and documentaries, performed at jazz festivals worldwide.
Jasmine Chen – vocals
Grown up in an artistic family in North Eastern China, she studied in England, and graduated from Leeds College of Music. Residing in Shanghai now, she works as a freelance vocalist and lyricist.
Lawrence Ku – guitar
Born and raised in Los Angeles, he studied composition and jazz performance in Boston, before he moved to China. He played with such greats as
Joe Lovano
,
Gunter Schuller
and
Maria Schneider
.
Zhu Mang – piano
Graduated from Shanghai Music Conservatory; performed for Swatch and Reebok, appeared at festivals in Singapore, Sanya, Hong Kong, member of the house band at "Jazz, Cigar & Wine Bar" in Shanghai and Beijing.
reviews
harmonicaspain.es
Conocemos la trayectoria de Jens desde hace muchos años, siempre ha tenido la constante de coloridos culturales, a sido fácil ver su camino dentro del jazz influenciado por la mirada hacia otros países, no solo por permeabilidad ante sus viajes para adoptar formaciones junto músicos locales que aportaban la versatilidad hacia la selección de canciones.
Si su anterior trabajo "Meet you in Chicago" andaba por tierras americanas, estos últimos años esta siendo muy frecuente la frecuencia de concursos y asistencias en tierras asiáticas, esta actividad ha dado como fruto a este proyecto y la realización de este disco junto con músicos y artistas locales. La base del jazz representado se representa entre estos cortes con el estilo característico de la armónica cromática de Jens cercano a ese estilo de Toots pero que de forma marcada diferenciamos, el apartado oriental de los músicos y cantantes dan ese exotismo al estilo me resulta favorecido, y una buena muestra de como es el jazz representado desde tierras asiáticas y como queda encajado el idioma nativo dentro de este jazz melódico.
El repertorio va desde temas propios pasando por otros de orígenes Chinos, de Indonesia y Taiwán.