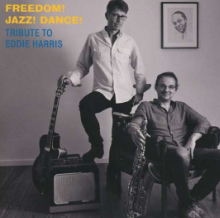 Rodenstein Records ROD 68
Marcus Halver & Oliver Wendt
Freedom! Jazz! Dance-Tribute To Eddie Harris
Oliver Wendt - Saxophone
Marcus Halver - Guitar
Dirk Wochner - Piano / Keyboards
Arpi Ketterl - E- & Doublebass
Felix Schrack - Drums

Great tribute to Eddie Harris by guitar player Marcus Halver and saxophone player Oliver Wendt. They took ten of Eddie Harris greatest hits and rearranged them for their quartet, keeping all the wonderful ingredients of his music: soul, jazz, rhythm& blues, rock'n'roll, raw energy and coolness according to his slogan: "Freedom! Jazz ! Dance!"
more about the music
more about the musicians
more about the music
FREEDOM! JAZZ! DANCE! Tribute to Eddie Harris was launched in celebration of his 80th birthday in October 2014 – now we are somewhat proud to present this CD just in time for his 85th anniversary: Happy birthday, Eddie!
Time warp: In Germany, the live music TV program "Ohne Filter - Musik pur" was introduced in the early 80s to bring a variety of mostly American Jazz, Rock, Blues and Fusion artists on to Europe's TV screens – the last show was produced in 2001. In 1991, Eddie Harris made his first appearance on "Ohne Filter" with an amazing rhythm section from New Orleans, and later that year, with his long-time colleague and friend, pianist and singer Les McCann.
The initial cooperation of the two, an unrehearsed slot at the Montreux Jazz Festival in 1969, was a "lucky accident" in jazz history: A Swiss television company filmed and broadcasted this one-off performance, the accompanying album Swiss Movement was released by Atlantic Records shortly afterwards. The record soon enjoyed cult status amongst jazz fans and beyond, particularly due to the captivating rendition of Compared To What, written by Eugene McDaniels and featuring explicit, politically-charged lyrics. This recording is recognised not just as a classic but one of the best live jazz performances ever captured on camera. Eddie Harris presented himself as an impressive player with
a unique tone. He also introduced his new composition Cold Duck Time, which to some degree marked the birth of what was to become Soul Jazz, and later still, when DJs started sampling old vinyls, was used to spice up Acid Jazz and Hip Hop tracks.
The sensational launching pad for Harris' career was the release of his debut album Exodus To Jazz in 1961: He was the first artist ever to be awarded a gold record for a Jazz album due to the commercially extremely successful title track. In 1966, Miles Davies recorded Harris' composition Freedom Jazz Dance for his album Miles Smiles which promoted Harris' status as a composer on the jazz circuit.
His talent as a multi-instrumentalist and vocalist, inventor, lyricist, author, bandleader, sound tinkerer and concept artist was equalled by his ability to cover a broad variety of styles, both as a com- poser and performer, ranging from Swing, Cool Jazz, Hard Bop, Free Jazz, Gospel, Funk, Fusion, Blues to a variety of Latin Jazz. He came up with unorthodox combinations of wind instruments and mouth pieces to develop a sound yet unheard of, later becoming a pioneer in electronic sound manipulation. Over 100 Eddie Harris albums have been released so far and major music streaming services list over 230 of his tracks. In order to do justice to his enormously creative output, we highly recommend the official website ➤ www.eddieharris.com which is beautifully maintained and updated.